e-Stewards Global Impact Calculator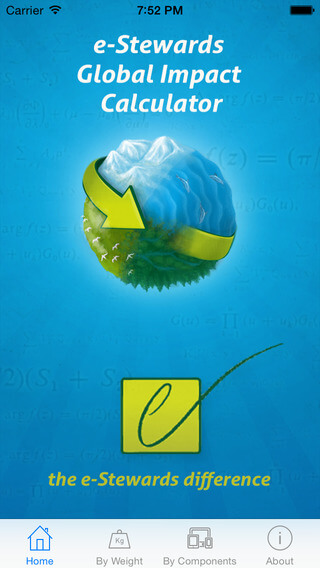 e-Stewards' free Global Environmental Impact Calculator (eWaste Calculator) can be
used to tally the actual environmental benefit of using e-Stewards recyclers.
Simply type in the total weight of e-waste or the quantity of each type of used
electronics you intend to have recycled. The tool will calculate your environmental
impact by determining the amount of:
1) Toxins Diverted (from landfill or dispersal)
2) Critical Metals Saved (recycled and not dumped)
3) Greenhouse Gases Avoided (by recycling responsibly)
These figures can be used to demonstrate and measure individual or corporate
responsibility.
The Global Environmental Impact Calculator is available for both Android and
iOS.
iOS 7.1 or later is required. It's compatible with iPhone, iPad, and iPod touch.
This app is optimized for iPhone 5.
Download MS Excel spreadsheet here.
Open Google Spreadsheet template then click "Use Template" button to load
the copy. Google Docs login is required if not logged in already.
Download the free Global Environmental Impact Calculator for iOS now!